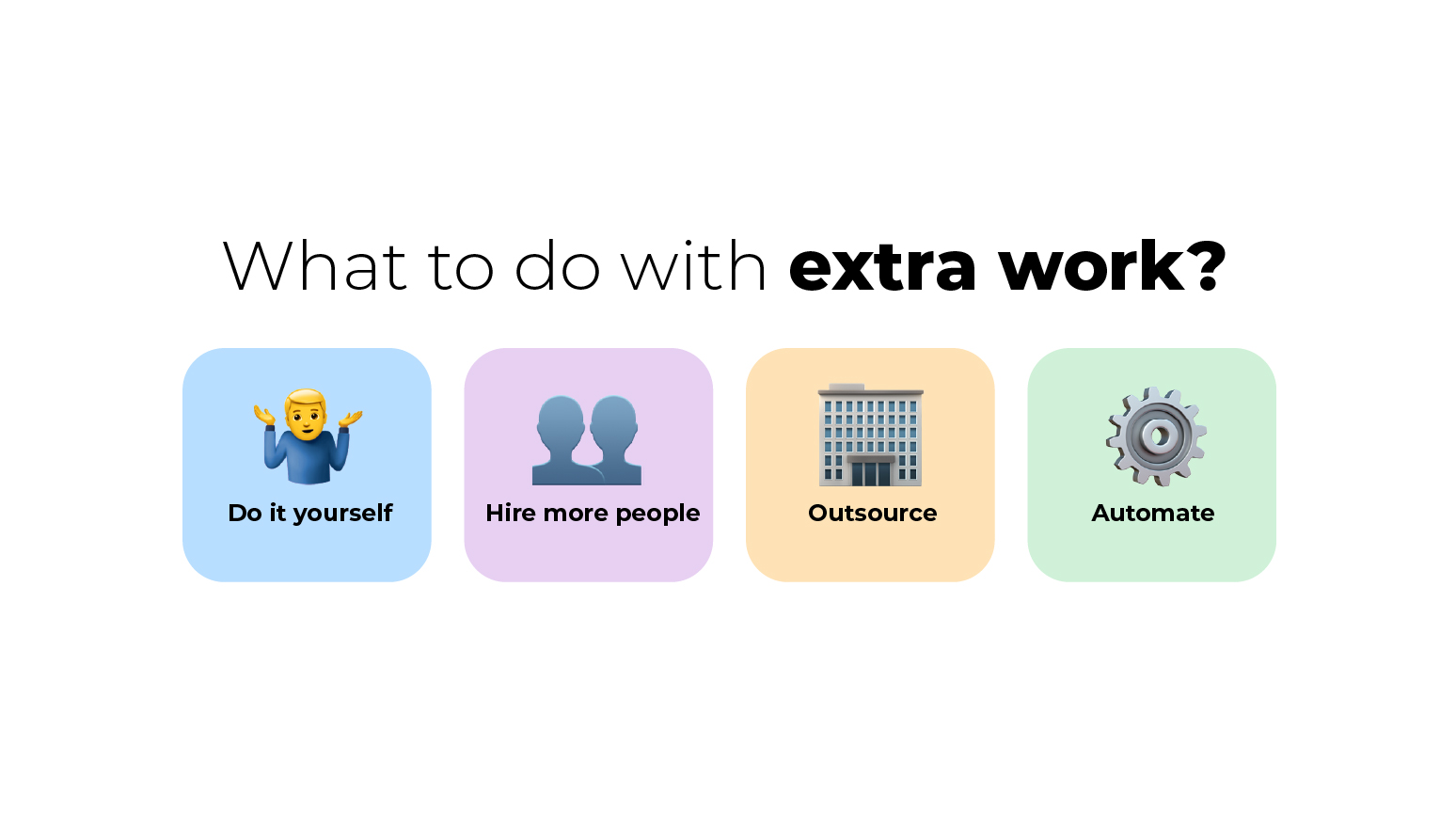 Back-office - add more people or automate?
Oct 6, 2021 8:29:33 AM
With technology reshaping almost every industry, naturally many businesses are looking for new ways to improve efficiency. Over the years technology has helped to eradicate many time-consuming tasks within offices, and as average working hours continue to decrease, almost every business will be under pressure to find ways to increase productivity. In this blog, we will take a closer look at office automation which could prove to be a great alternative to expanding your workforce.
The evolving office workforce
The world of work has changed fundamentally over the years, with previous generations working far more hours every week. For example, those in the 1950's often worked more than 50 hours every week, whereas today we are experiencing a decline in the average working hours. As you can see in Figure 1 below, this is a rapid decline of more than 25% in some countries, a trend which is set to continue into the future.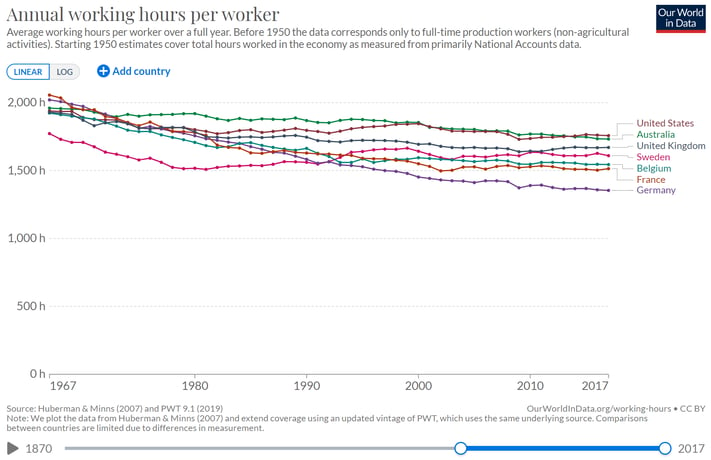 Fig. Dropping working hours. (Source Hubermann & Minns 2019)
Although this is often great news for those looking for a better work/life balance, for many businesses the reduction in working hours is leading to a steady increase in the workload for departments such as marketing, customer service, HR, finance, and procurement. This creates a natural imbalance, as eventually the increase in workload cannot be completed by the current workforce hours.
How to overcome the challenge of an increasing workload
With managers around the world looking for cost-effective ways to manage an increasing workload, there are a variety of options available depending on the work your team need to complete. Whether you need creative and collaborative input on a project or additional support with administrative tasks, such as invoicing and inventory management, these issues are likely to escalate as your business continues to grow. So, what are the options?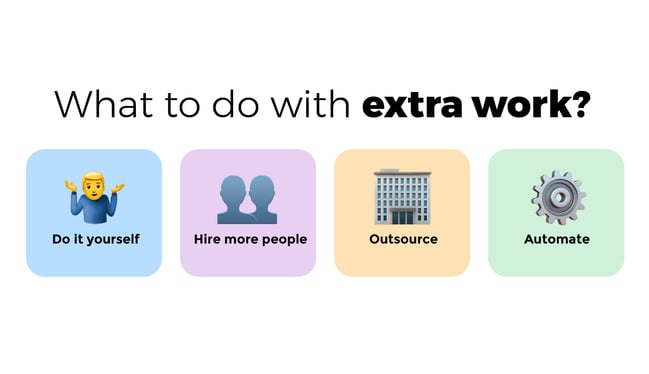 Do it yourself

– As a business owner or manager, you will naturally want to help the business in any way possible. However, do you really have the time spare to do it yourself, and would your valuable time be better spent on more important projects within the business? If you try to do it yourself, inevitably you will need to work longer hours, and this will take its toll on both you and the business.

Outsourcing

– There are many contractors available to provide quick assistance to businesses which need back office support, and there is the great benefit of not needing to hire new staff on a permanent basis. However, will they understand exactly how your business works, will they have the experience required and will they offer the reliability you need?

Hire more people

– In many situations, it may seem as if the only solution is to hire more permanent staff. When the pressure is mounting and you need a skilled and reliable team, naturally you will want to ensure you have the workforce available. However, this is an additional expense, and you will need to be sure that the workload is not going to change dramatically, as both reducing and increasing your employee numbers can take time.
As you can see, there are positives and negatives with the various options listed above, however, they may not provide the ideal solution for your business's workforce struggles. Thankfully, there is a fourth option that could provide the affordable, efficient and scalable solution your business needs, back-office automation.
Ultimately, back-office automation will allow you to scale your business with fewer inputs, with solutions that can benefit the entire business. Every task which is automated will be fully documented, consistent, and accurate, which are not guaranteed outcomes with any other option.
What is back-office office automation?
So, what is office automation exactly? Put simply, automation allows your office to eliminate out-of-date paper-driven processes within your back office, which are often inefficient and time-consuming. With the help of solutions such as Microsoft Office Automation tools, it is possible to lower costs, minimise human error and allow your office team to focus on the important tasks within the business.
As the business grows and workload naturally increases, back-office automation systems will be able to scale to meet the changing demands of your business, with no requirement to hire additional staff. Whether you need additional administration, accountancy or customer service support, Microsoft Office Automation tools are available to provide the technological support you need.
The long-term benefits of back-office automation?
Advances in back-office automation have enabled many businesses to improve efficiency, increase productivity and reduce costs. The use of automated technologies is changing the way offices operate, and workforces are naturally moving to a combination of humans, robots, chatbots and other forms of automated solutions, with businesses experiencing many benefits, including the following:
Saving time and money with a scalable solution –

Office automation software will ensure your employees will no longer be responsible for the tedious, time-consuming and cost-intensive back office processes. Instead, office automation can be used to complete these complex and time-consuming tasks, allowing staff to focus on adding value to the business rather than document-heavy tedious physical processes.


In the world of business, time is one of the most valuable resources, especially when you have salaries to pay, and the business needs to scale. Office automation software allows your team to work efficiently, without sacrificing on the quality of work or the level of service your customers receive.
Improved productivity through repeatability –

By providing the efficient tools your team need to speed up back-office processes, you will find that your current staff have more time free to focus on the important tasks which require their unique skillset and knowledge. There is also peace of mind in knowing that the automated tasks will be completed consistently with no errors, leaving your team free to focus on other projects.
Innovation and the automation flywheel

- Utilizing automation within the workforce allows your employees to use their unique human skills of creativity, empathy, and ingenuity, rather than wasting their valuable time on repetitive tasks which could be automated. In addition, when an organisation fosters a culture of automation, the team are more likely to use their unique creativity to find new areas of the business which can be automated with innovative solutions that add value and improve productivity.




Addressing workforce skill shortages –

If you operate in an industry that is struggling due to a lack of experienced workers able to fill positions, automation could help you to adapt and innovate. Those who are currently working in back-office positions could upskill, cross-skill or re-skill to fill new positions within the organisation, with automation taking care of their previous back-office tasks.
There is also the added benefit that knowledge is not stored inside the mind of a single employee, which is then lost if the employee leaves the business. Instead, everything is documented and fully transparent to the rest of the team.
Do I have the potential for back-office automation?
There are many areas of the business that can benefit from office automation software, and this simple assessment will quickly help you to identify potential opportunities within your business:
Make a list of tasks that are repeated daily, weekly, monthly, and quarterly.

Even if a task seems small, irrelevant, or quick, include it in your list, as this will help you to spot a pattern of automation opportunities.

Expand on the points in your list with details such as the amount of time tasks take, the number of employees required, and the benefits of completing the various tasks.
The following are some examples of popular areas of automation within many businesses, and they may provide you with some inspiration for your own back-office automation solutions:
Assistance with software integration – Most businesses rely on the use of multiple software programs, and it can be confusing to manually keep track of these. Office automation software will link your various systems together, with documents stored, sent, and handled automatically. Although this may seem like a simple step, it will save a vast amount of human time and reduce the level of staffing required.

Human resources – The HR department within your office is likely to be busy, especially if your business is short-staffed and growing at a quick pace. Automation can provide the assistance your HR team needs to focus on staff training, job retention and hiring new employees, instead of managing document-related tasks.

Finance – Every business will have staff which are responsible for handling banking and finance-related tasks, and if your team are struggling for time, automation will take the pressure off. For example, back-office automation can be used to send and collect invoice payments, so that your team are free to focus on other tasks.

Procurement – In a rapidly growing business, tracking inventory and staying on top of procurement-related tasks can be difficult to manage and time-consuming. Instead of expanding your team, automation can streamline your inventory and purchasing processes. For example, each time a customer places an order it is possible to automatically update the inventory list, and when this hits a certain stock level, a notification can be sent to the procurement team.

Business analytics – Although intuition and experience are important in business, it is the data driven insights and analytics which will guide your business towards success. Every day businesses generate data, and this can be used in many ways, from predicting sales forecasts to developing new products and creating an effective marketing strategy. Backoffice automation can be used to feed the data through to the relevant departments, without the need for intermediary staff.

Customer service and sales – These departments will have a direct relationship with your customers, so it is important that your team have the support and time needed to provide an excellent service. Automation can help with everything from personalizing online experiences to providing responses within online chatbots, all of which will set your business apart from the competition, without needing to invest in a larger workforce.
Do any of these examples sound familiar? If you are interested in finding out more, you can follow our guide on how to capture and weight Automation opportunities, by using relative targeting methodology
The size of your business and the industry you operate in is irrelevant when it comes to automation, there is no need to hire a team of developers and even the smallest most irritating tasks could be eliminated forever. Over the last 20 years, we have seen many changes in the way people work, as we shift towards new ways of working with digitisation at the core of our daily lives. Automation is always available to improve efficiency, support your business and create a better workflow, and our team know exactly how to solve your time-constraint problems.
Contact NUDGEIT for a free 1-hour office automation call!
We hope this blog has provided some ideas for your business, and as you can see, office automation software can be very useful for businesses that are struggling with an increasing workload. If you would like to find out more about the benefits of office automation, book a free 1-hour call with the NUDGEIT experts. We know everything there is to know about Microsoft Office Automation, and your business will soon experience the benefits.
Get started book a free hour