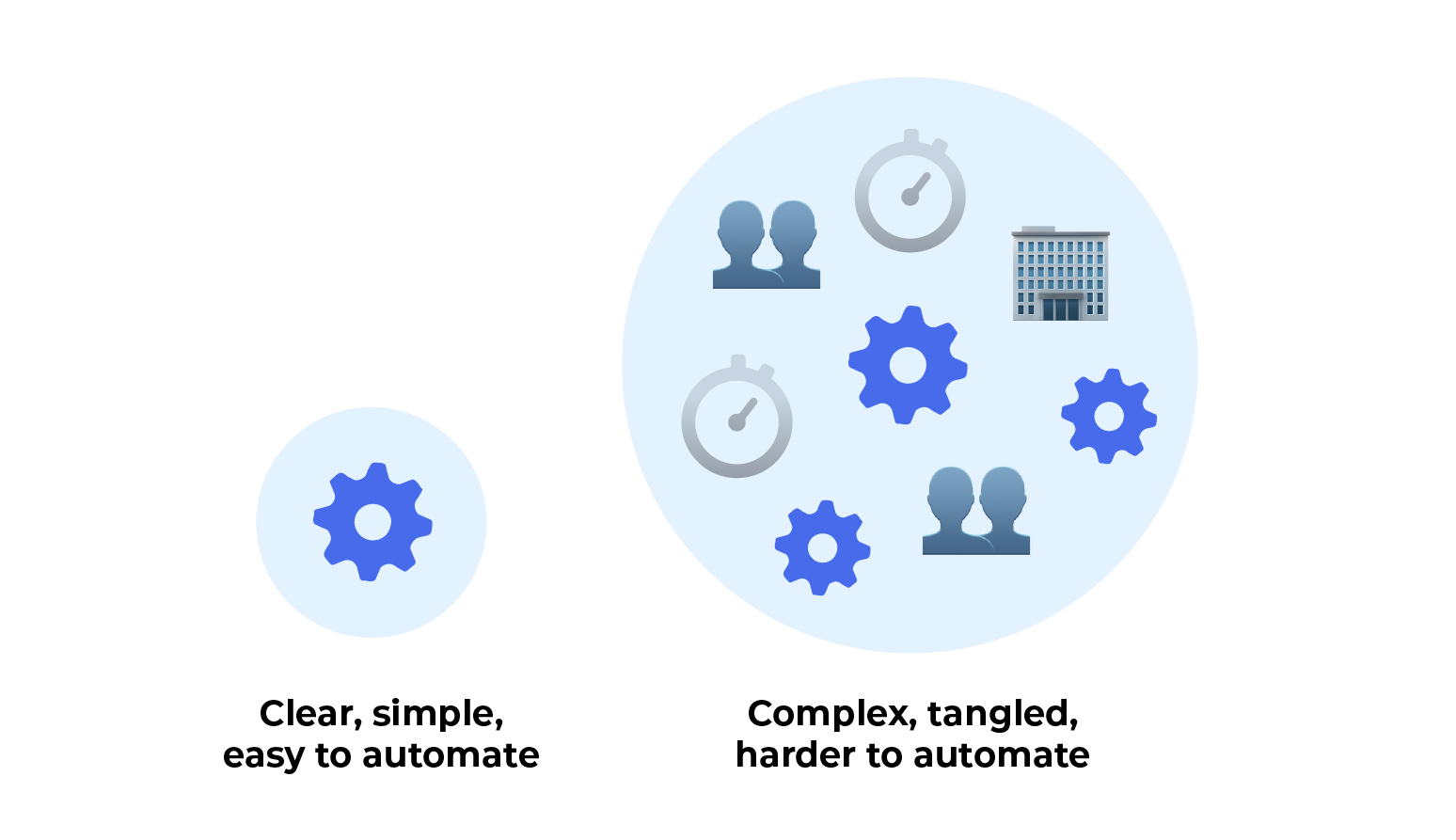 Too small for automation?
Sep 9, 2021 5:29:54 AM
When you hear other people talking about the benefits of automation within their business, do you think, "that is only for big businesses, we are too small for automation," if so, think again. There are so many opportunities for automation within businesses of every size, in fact, it is actually very beneficial to introduce automation at an early stage within your business.
If you are looking to reduce errors, lower costs, increase productivity, improve customer satisfaction, and grow your business, you are likely to have great success when investing in automation. In our latest blog, we take you through some of the benefits associated with small business automation, so that you can see for yourself how this technology could be used.
What is office automation?
Automation technology will simplify the areas of your business that require manual input from a person, from capturing leads and closing important sales through to customer service and routine office task management. Almost anything which requires repetitive manual processes can be automated, and this will allow your small team to devote their time to tasks that really matter, like growing your business. A lot of areas can be Automated, up to 60% of all jobs according, want to understand cognitive functions and the capabilities to Automate job, read the short whitepaper can you automate the CEO?
When should my business start with backoffice automation tools?
As a small successful business your company is likely to be growing, and planning how to manage the ever-increasing workload is a vital part of your success. Will you do the extra work yourself, or are you too busy? Will your hire more people or outsource to an external company, or are you looking to keep expenses down? If you are looking for a scalable solution which fits within your budget and improves efficiency, investing in office automation software at an early stage in the business could prove to be highly beneficial. Also, consider that the workforce market is getting pressured, and a perfect storm of increasing efficiency gain pressure and lack of skilled workforce may force you to Automate, so maybe skim-read our 'A perfect storm is brewing - can automation calm it?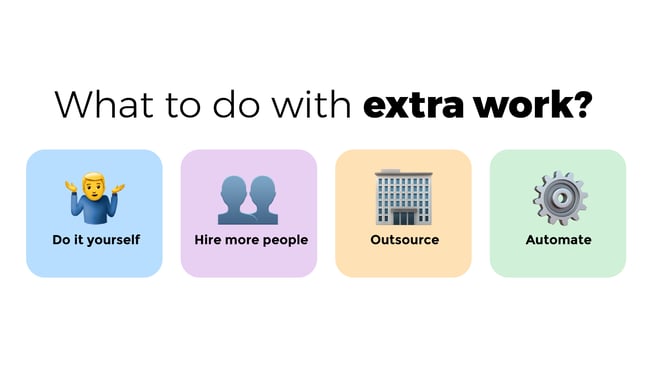 What are the benefits of office automation for a small business?
A natural way of working – Introducing automated processes within your business at an early stage will mean that systems soon become a natural part of your culture. This will ensure your business reaps the benefits of automation immediately, with everyone in the business keen to embrace the technology.
It is easier to get started – The smaller your business, the simpler your processes are likely to be. By investing time now in modern API's, your business will find it much easier to handle growth in the future. Automation is extremely scalable, so whether you have a single input now or 100,000 inputs in the future, the technology is available to grow with you and it is much less complex to start now. If you want to save time, money and often frustration, we always recommend starting at an early stage.
A reduction in human error – Any manual data entry processes are vulnerable to human error, so areas such as bookkeeping, invoicing and inventory management will benefit from the accuracy providing by automation. Your processes will become far more accurate, quicker, and more effective when you leverage automation.
Improve efficiency – As a small business, you are probably expected to do the same tasks as a larger business, but with fewer people. Within your business, there are likely to be many tasks that are repetitive or recurring, and these could be taking up valuable time. Instead of asking your team to spend their valuable time on these tasks, automate them and allow your employees to focus their efforts on more productive areas.
Streamline collaboration – Businesses of every size will benefit from increasing and streamlining collaboration, especially if members of your team are working remotely or based in another site. By streamlining your complex projects, you will be able to effectively monitor project progress and stay on top of deadlines.
Improve your digital marketing – Every business needs to invest in their marketing strategy and digital marketing offers many great tools for small businesses. At the heart of every successful marketing campaign is data, and automation can help you to collect, process, organise and analyse your data to create more effective digital marketing campaigns.
Avoid issues with data compliance – As a small business, it is unlikely that you will have the in-house resources to manage data compliance and there are very strict regulations in place, especially if you operate in a highly regulated industry. Automation will ensure that every aspect of your data is managed in line with the various regulations and standards so that you can rest easy with complete peace of mind
Optimise remote workflows – Small businesses, in particular, are benefiting from the shift to remote work, with automation used to improve workflows and processes for those working remotely. Even if your employees are currently working on-site, the pandemic has taught us that things can change very quickly, and automation will ensure any transition is seamless.
Reduce operating costs – Although the initial investment in automation will require an initial outlay, you will soon see a reduction in your operating costs when time is saved, and errors are reduced. If you are looking to cut costs and fuel growth, automating will speed up your operations and reduce your labour costs.
Increase growth – Although manual processes may work now, your business is likely to experience growing pains as it expands when additional processes are required. From miscommunications and extra reports through to new applications and systems, it is hard for a small team to keep track. Automation will create order and allow you to devote your time to following your strategy for business growth.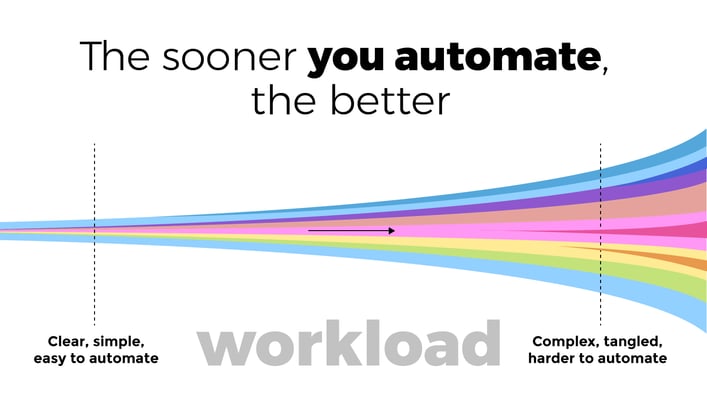 The urge to re-engineer your processes before automation may be there, but in many cases, this is actually counterproductive to achieving progress and creating a long-lasting culture of Always Automate. We cover this in another blog Re-engineer your processes or Automate today?
What are some examples of automation within a small company?
As the person running the business, you will have an excellent understanding of the way various processes within the business work. If there are areas that are taking up a lot of time, energy and resources, there may be back-office automation solutions available to improve efficiency. Try to think of those simple but annoyingly repetitive tasks, where either complete accuracy is required or where data is simply transferred from one system to another, these are perfect examples of efficient automation cases.
One of the best examples which shows just how simple automation can be is the document approval process which can be streamlined with an automated approval flow in SharePoint. The document can be uploaded to a SharePoint list or library, where the document can then be automatically sent to one or more people for approval and release or rejection. It is possible to create multiple approval levels depending on the structure of your business, with this form of Microsoft Office automation streamlining and standardising the whole process.
The sharing of information within SharePoint is just a single example, however, there are likely to be many other automation opportunities within your business, for example:
Using SAP to extract transaction data and ingesting into PBI.

Extract data from a single system, enrich this data and push it into another system.

Creating email triggers as part of a marketing strategy.

Controlling access to software and documents.

Automating the business's expense routine, rather than manually collecting, checking and uploading.

Automating payment of the monthly credit card bill, by checking the statement against receipts from the web portals.

Automating annual leave information into a single document with information extracted from employee emails.

Automating creditor payment reminders when payment dates lapse.

Sending immediate responses to an email contact request.

Office administration, such as data entry, billing, and paperwork.

Appointment scheduling and following up.

Employee hiring, onboarding, and training.

Assigning leads to the correct department or person.

Following up on new networking connections with an automated email.

Creating a framework for a sales pipeline.
Kickstart your office automation with a FREE 1-hour call with the NUDGEIT team!
As you can see, back-office automation could provide your small business or start-up with a range of great benefits. We hope that this post has shown you that automation is not just for larger companies, and there are many budget-friendly options that do not require an in-house IT department available. If you want to see the benefits for yourself and create a culture of automation, our experienced team can help.
Our expert team offer a FREE 1-hour consultation service, and together we will discuss the various office automation software options available. The sooner you get started, the sooner your business will benefit from a more efficient way of working. To find out more, contact the NUDGEIT team today