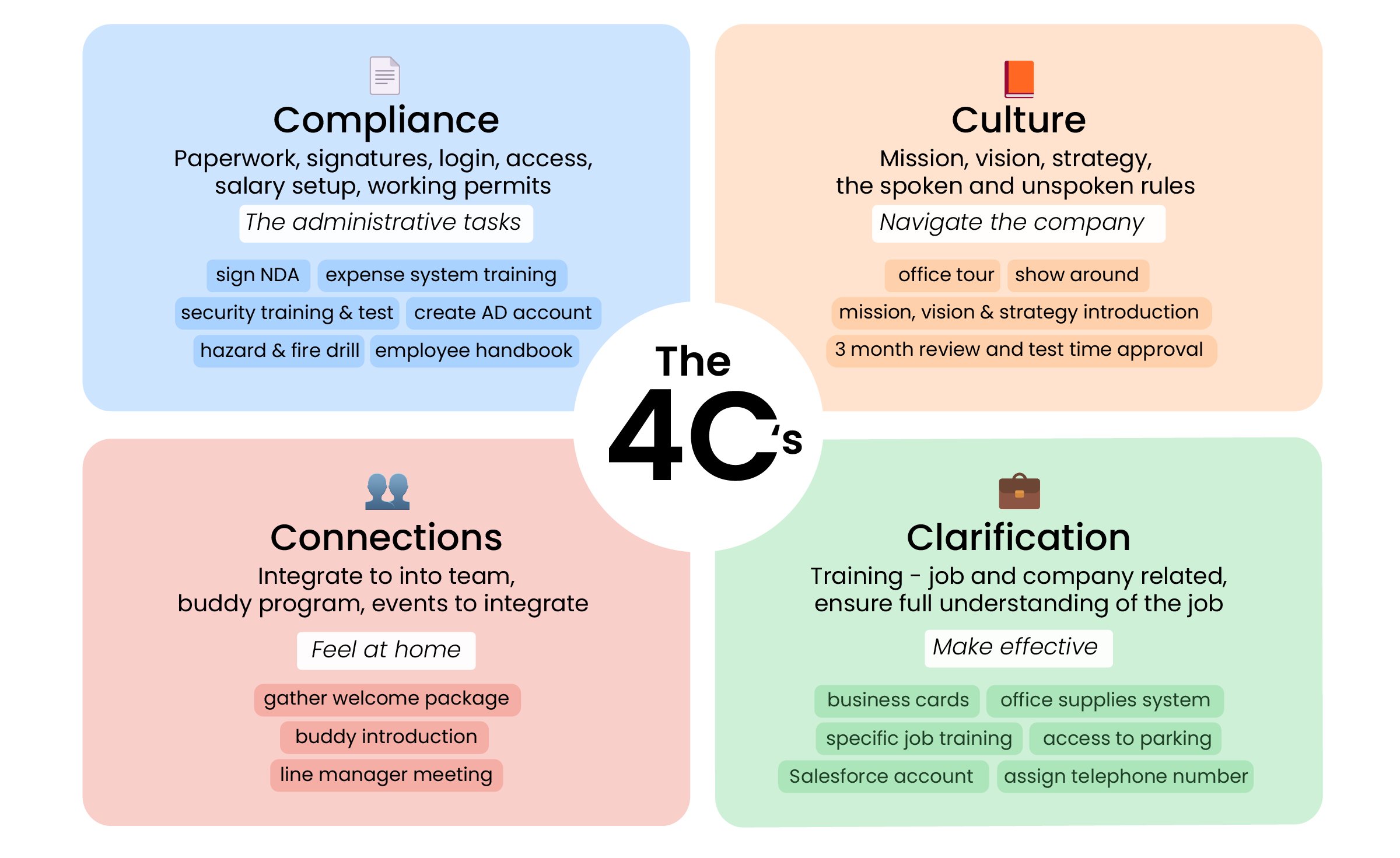 Manual or automated onboarding? The Employee does not care!
Apr 12, 2023 6:17:57 AM
Manual or automated onboarding? The process can make or break a new employees experience!
As a HR professional, you will be familiar with the long list of onboarding tasks that need completing for every new employee, and with manual and automated processes it can quickly become confusing. This complexity is frustrating for everyone involved, so you may be wondering how to streamline onboarding to improve the overall experience. With both manual and automated options available for many tasks, it is important to remember that new employees are unlikely to care how onboarding is completed, as long as the process is smooth, simple and efficient.
In our latest blog post, we take a closer look at key onboarding tasks and how they can be managed effectively both manually and through automation to develop an effective solution for your team.
Why is efficient onboarding so important?
Hiring new employees is a difficult task, especially when there are limited numbers of qualified candidates available, and staff turnover levels are high in almost every industry. Once your team has successfully found a great candidate, negotiated an employment package, and received a signed contract, it is important to ensure that onboarding runs smoothly.
The new employees do not care about the processes behind the scenes, they simply want to feel welcomed, prepared and ready to start work. Onboarding is the first time that a new employee will really develop a feel for the business and its culture, so it is something which every business should take seriously.
In fact, according to research by Brandon Hall Group, a strong onboarding process can improve staff retention by 83% and productivity by more than 70%. The onboarding experience has never been more important, so it is time to focus on the wider picture and optimise tasks through effective manual and automated inputs.
What tasks need to be completed during onboarding?
From integrating within the team to ensuring the new starter has the tools, equipment and information needed to hit the ground running, onboarding is a complex, strategic process that involves multiple team members and departments. If you are interested understanding the flow of onboarding, read this Employee Onboard Process short Whitepaper
As a company grows and expands, onboarding can quickly become a time-consuming, costly process, especially as the number of departments involved starts to grow. As you can see from Figure 1 below, there are many tasks which need to be completed and with strict timeframes the process can quickly become quite daunting.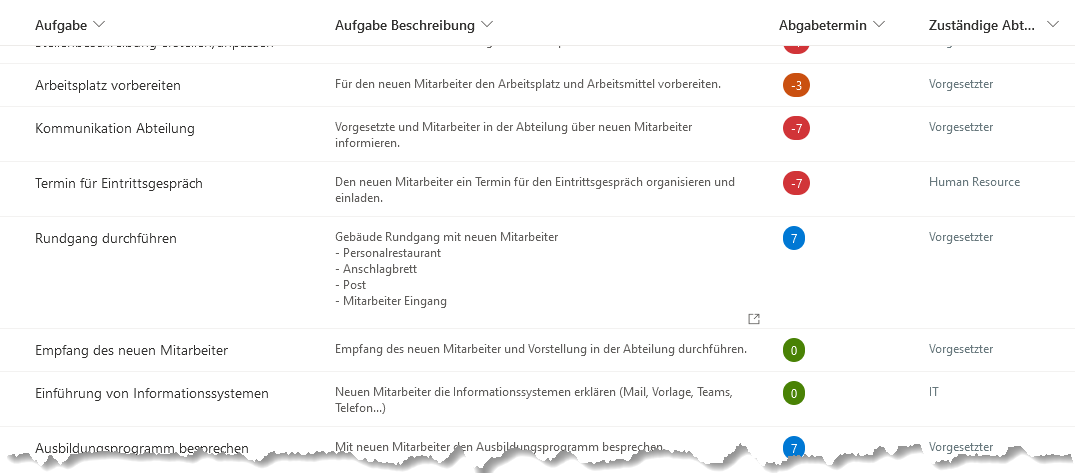 Figure 1: A sample list of some tasks that need be completed during onboarding - time dependencies and multiple departments involved makes this a daunting process
Many HR and team managers feel overwhelmed with the complexity of onboarding tasks, with the following being just some examples of automated and manual tasks which are common in many companies:
Automated tasks:
Creating accounts to access software packages
Adding a new user to security groups
Adding a new user to shared mailboxes
Providing coworkers with notice of the new employees start date
Collect key information and send to relevant departments, such as contact and bank details
Email the new employee with details of their first day, where to go, who to ask for and what to bring
Provide access to key employee resources including company policies, health and safety manuals and the employee handbook
Manual tasks:
Preparing a new starter welcome package, such as a mug, water bottle and stationery
Arrange the workspace including a desk and chair
Ensure hardware is setup and working, including items such as a laptop and mobile phone
Allocate a locker space
Give a workplace tour of spaces including the kitchen and bathroom
A physical introduction to their team and employee roles
How can I streamline the onboarding process?
With a long to-do-list, it is easy to make mistakes during onboarding especially when tasks can be time-consuming and prone to errors. However, from the lists above you may spot automated tasks within your own processes that you are currently manually handling, these represent an excellent opportunity for further streamlining.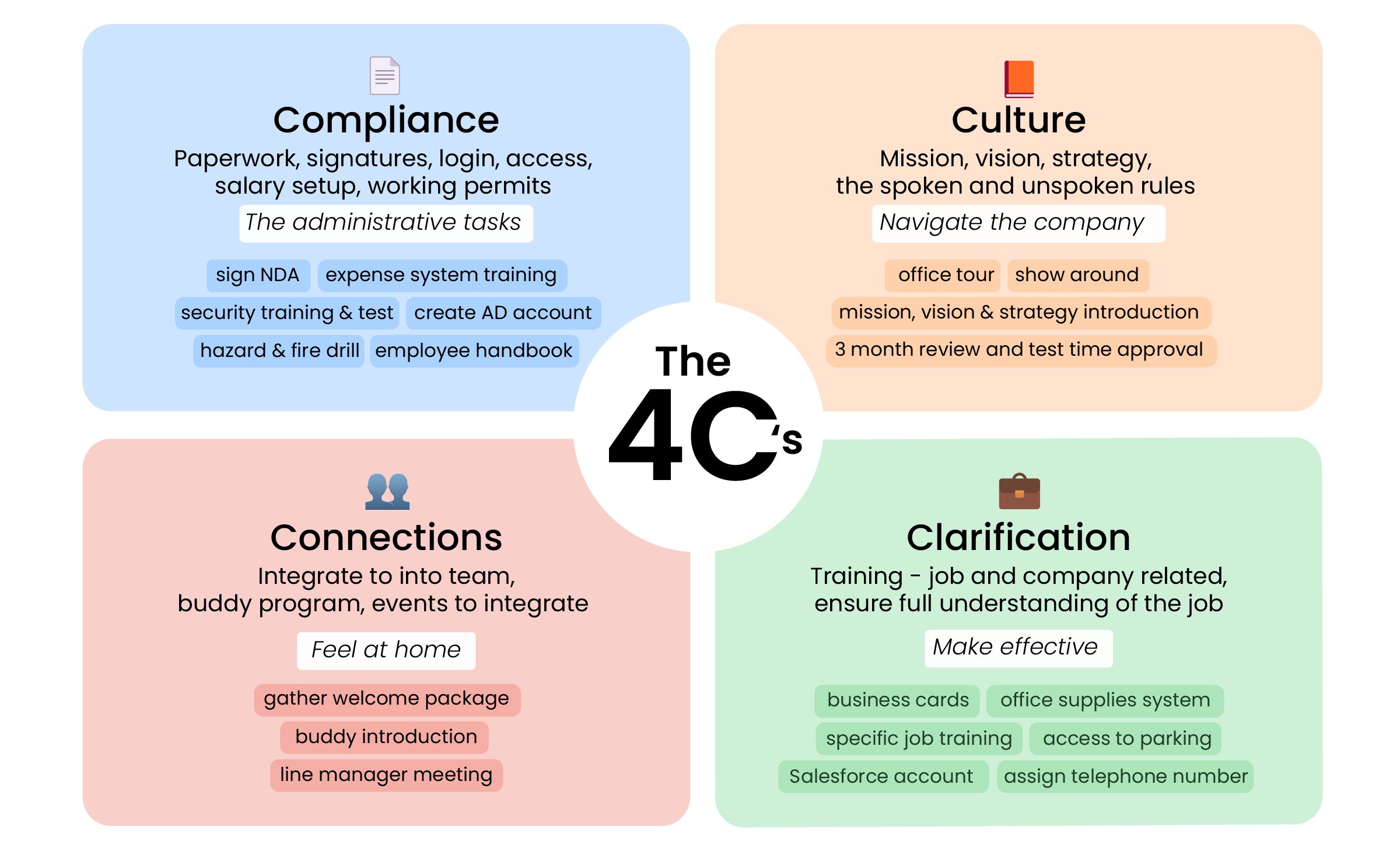 To identify these opportunities, we recommend making a comprehensive list of onboarding tasks which your company completes, so that you have an overview of the complexities and interdependencies involved. This can be broken down into stages:
Preboarding – This is the period between the signing of the employment contract and the new starters' first day. Key tasks during this time usually involve gathering key information, ensuring forms are signed and preparing the employee for their first day of work.
The first day – Successful preboarding will reduce the number of tasks needing to be completed on an employees first day, and the focus on first day tasks should be to ensure they feel welcome. From team introductions and providing equipment through to ensuring access is granted to the relevant systems, these tasks focus on practical steps.
The first month – Once the employee settles into their role, a system needs to be in place to gain feedback. This will help new starters to share any concerns, so that adjustments can be made to improve retention and productivity.
Once you have an in depth understanding of the current process and the tasks involved, you can look for automation opportunities. These opportunities can be used to eliminate the risk of errors through manual input, such as ordering businesses cards, allocating phone numbers, and providing access to IT Systems. This will allow your team to focus on the manual tasks which cannot be automated, and with more free time to focus on these key processes, your new employees will benefit from the best possible onboarding experience.
NudgeIT – Intuitive onboarding workflows designed for your business!
Although many onboarding tasks can be automated, it is important to remember the vital role of human interaction. New employees will be relying on the onboarding process to forge connections with their new team, and the first few days of introductions will really help new starters to feel valued and included. However, beyond these settling in sessions and physical engagement tasks there are many tasks which businesses can automate to create a smoother experience.
Automation technology is available to facilitate the onboarding process, and through optimised workflows it is possible to guide new employees and the wider team towards a smoother experience. If your business is just starting to explore the possibilities of automation, it is important to remember that the technology is designed to be a tool, it is not designed to completely replace the personalised side of onboarding. It is the personal aspects which your employee will appreciate, and with technology available to complete the behind-the-scenes tasks, you can use your time to make new starters feel welcome!
If you would like to find out more about how our team can help you to optimise onboarding workflows through automation, contact the NudgeIT team today. We can create systems which remove errors, save time, lower costs, boost staff retention levels and enhance productivity, and with our personalised approach for businesses of every size, there is no better time to get started. You want to have an informal discussion, reach out to our Automation Experts.