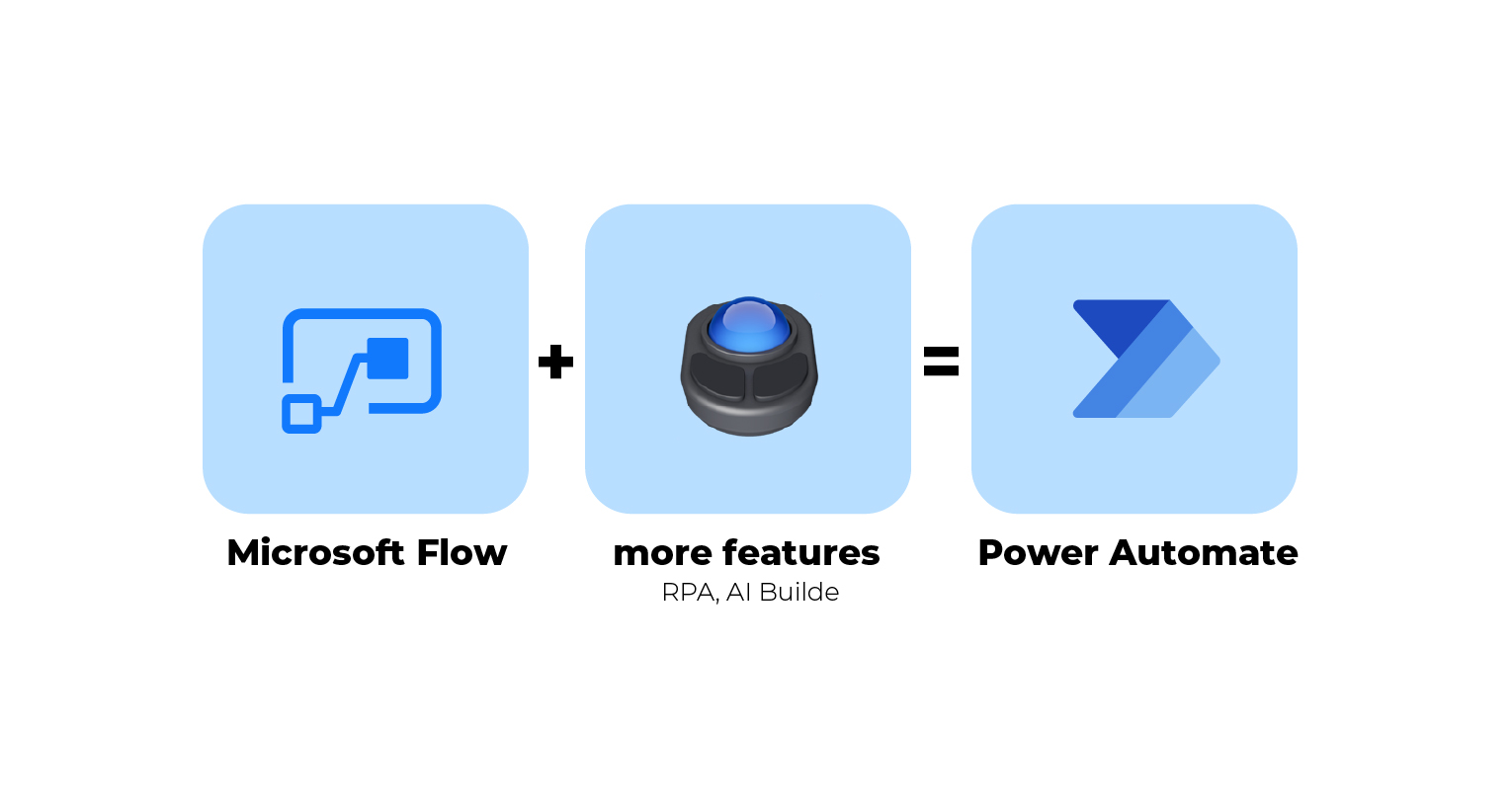 Difference between Microsoft Flow and Power Automate
Aug 19, 2021 4:00:06 AM
In 2019 Microsoft rolled out massive changes to its automation tools, with new pricing, licensing complexities and branding. This included the rebranding of the well-known Microsoft Flow cloud-based tool, which is now named Microsoft Power Automate. The newly named Power Automate system includes all the familiar features of Microsoft flow, with the addition of new capabilities which are designed to further simplify business processes and efficiency.

Figure 2: A surface rebrand with additional RPA and AI builder features
What is the difference between Microsoft Flow and Microsoft Power Automate
Despite launching more than 28 months ago, there is still some confusion, with many individuals asking 'What is Microsoft Flow?' and 'What is Microsoft Power Automate?' or the wish to know what is the difference between Microsoft Flow and Microsoft Power Automate?. In this blog we take a closer look at the current capabilities and the changes incorporated within this rebrand.
If you want to get to know more about Microsoft Power Automate, then we have summarized the key features in this Guide to Microsoft Power Automate, and how it fits into the family of Power Prodcuts.
What is Microsoft Flow?
The Microsoft Flow Office 365 tool was designed to improve productivity in the workplace, by combining multiple cloud applications with API automations. Through the collection of data, notifications, file synchronisation and connections to SaaS apps, the Microsoft flow free tools quickly became a popular solution.
The ongoing development of the Microsoft Power Platform meant the tool needed rebranding and today Microsoft Flow is part of the Power Automate structure, which again is a part of the Power Platform suite. By aligning Microsoft Flow closely with the Power Platform, Microsoft is able to offer a variety of no-code and low-code tools, which users can easily navigate including the following:
Microsoft Power Automate – The rebranded Microsoft Flow tool with new RPA and AI building capabilities.
Power Virtual Agent - A simple tool which allows users to create chatbots which answer queries via your website.
Power Apps – A service designed to support the building of custom business apps, without prior knowledge of software development.
What is Microsoft Power Automate?
So, what is Power Automate and what new capabilities are available? The overall capabilities of Power Automate are very similar to the original Microsoft Flow platform, with time-consuming and repetitive tasks easily automated. With ready to use templates and app recommendations, this workflow management tool is accessible to small companies with limited experience and no coding knowledge.
Power Automate supports the development of functional flows, such as transferring client data, saving email attachments automatically within Microsoft apps or any apps with a connector, and receiving notifications on mobile devices. The potential list of flows is almost endless, and the platform is designed to make recommendations to improve your productivity.
Essentially, Power Automate allows users to define an action which is triggered by an event. The tool sits in the middle and allows users to set a response to specific triggers, which can be sent from a multitude of systems. The system uses connectors to link various systems, such as Office 365, Mailchimp, Salesforce and Facebook with templates of easy to install popular automations. This may sound simple, however, when multiple flows begin to work together, it is possible to create highly sophisticated automation.
Although on initial inspection Power Automate looks like a rebrand, there are some new additions, as seen in Figure 2 below. Most notably, Microsoft has incorporated the automation of robotic processes (RPA) within the platform, which are known as UI Flows. This functionality will support faster and safer automation, with all users able to create workflows through a guided experience.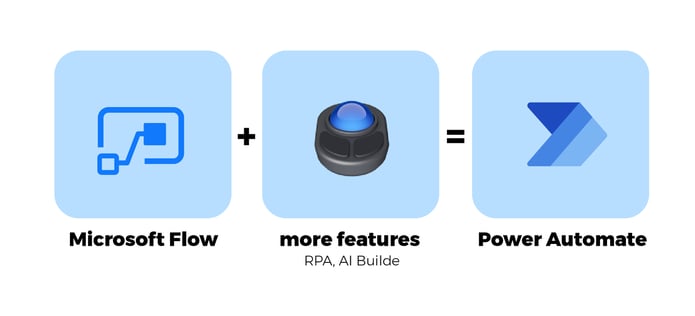 Figure 1: Power Automate including the original Flow features, with the addition of RPA and AI Builder.
What is UI Flows?
This is a great feature for SME's, as UI Flows will act as a bridge between various apps to create an efficient solution. Fundamentally, the UI Flows functionality is a point and click experience, which enables users to record their manual tasks and playback this human level of interaction via automated workflows.
There is no prior coding experience required, as the tool records and creates an agent which is capable of repeating the workflow on request. With more than 275 apps available that support API automation, there is excellent potential to reinvent business processes across a huge range of industries. By utilising bots and AI workers, RPA within Power Automate will save time, lower costs, improve efficiency and reduce the risk of human error.
The new RPA capability is a transformative element for the Power Platform, as users can integrate with legacy systems which do not have APIs. In the past, this was a task reserved for experienced developers, however, users can now record their clicks and keyboard inputs to create an automated workflow playback.
For example, the Power Automate RPA functionality can be combined with AI Builder, another popular tool within the Microsoft Power Platform. AI Builder is capable of efficiently extracting data from documents, including those received as email attachments. This automation can be used to scan a PDF and to use OCR on the required section to transform images into text. The extracted data can then be reviewed and approved through a central manual validation Power App.
Nudge your business to the next level with our hands-on service
Whether you are familiar with the original name of Microsoft Flow or are just beginning to research the benefits of Power Automate, we can help you kickstart your automated flows. There are many aspects to consider, from the SaaS and cloud-based connectors to on-premises connectors and premium connectors, Licensing etc.
Our automation experts offer a free 1-hour session which is designed to help you get started with Power Automate, and together we can take a close look at everything from connectors to Azure functions. To find out more, please complete our online contact form to talk to a Microsoft Automation Specialist .